Men's Journal aims to feature only the best products and services. We update when possible, but deals expire and prices can change. If you buy something via one of our links, we may earn a commission. Questions? Reach us at [email protected].
At some point during the pandemic and lockdowns, my wife and I bought a Peloton Bike and I was instantly hooked. I found myself enamored with the instructors and the motivation they provide. I grew to appreciate the change in pace (forgive the pun) of the different classes and programs provided. Eventually, we ordered the Peloton Tread and we were all in.
After taking delivery, I started to do some of the available hikes, walk/run classes, and even a jog. I was training to take part in a Spartan race with a friend of mine, and I was determined to have the endurance to finish it without walking any of the course.
As the weather warmed, I took my running to the pavement. It was something I'd never really done before and, as it turns out, that fateful April afternoon would be the last time I'd go for a run. You see, during that run I injured my knee.
Over the next several months, I followed my doctor's orders: lots of rest, anti-inflammatories, and plenty of ice.
I went from working out 5–7 times a week, to doing nothing. It was brutal, physically and mentally. Each time I'd try to become active again, my knee would flare up and I'd have to revisit the doc's instructions. I didn't know what to do.
Then last November, I was approached about giving Future.co a try. After some back and forth, I decided that having access to a personal trainer who could, hopefully, guide me through being both active and conscious of an injury could be a huge help. I was offered a three-month trial to Future, which costs $149 a month, and immediately got started with it.
Small spoiler: It was one of the best things I've ever done.
Picking a Coach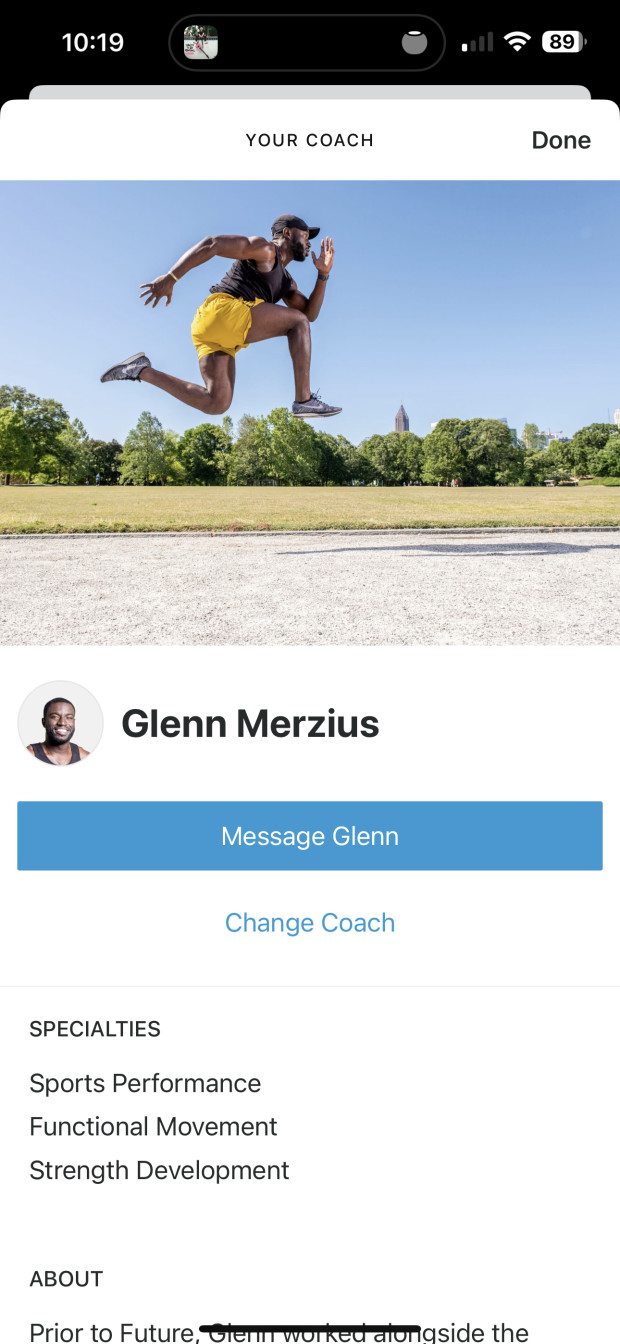 The initial sign-up process for Future involves going through a short questionnaire where you're asked about things like your current fitness level, your goals, what you expect from a personal trainer, how you want them to motivate you when you're slipping (ex: have a gentle touch or be very bossy), and if you have any existing injuries. In total, the survey took me about 5 minutes.
Once the survey is done, you're presented with a list of coaches, with the service's top pick highlighted for you. You can go through all of the suggestions if you want and read their history, bio and their overall approach to helping you reach your goal.
After you've picked a coach, you're asked to fill out some additional info on what kind of equipment you have access to, whether you'll be using it at home or a gym, and how much time you have to work out.
Now, you can complete the initial sign-up process through the website but, after that, all of your interactions with your coach—including workouts—are handled in the iPhone or Android app.
Ultimately, you're asked to schedule a 15-minute video call with your coach to go over your workout plan, limitations, and equipment. This way, you'll also get to know each other.
It's Time to Get to Work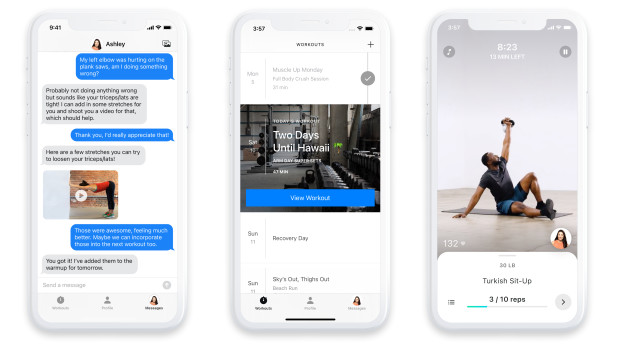 Once the onboarding process is complete, your coach creates a workout plan for you. Each week's plan is published on Sunday, giving you plenty of time to ask questions, view the various exercises and contact your coach via the app's built-in chat feature.
Every workout has an introduction from the coach, offering some insights into what you're working on and what to expect; in my experience, there were often some words of encouragement.
Prior to starting the workout, you can check out each individual exercise you'll be doing and watch a video demonstration with audio guidance on how to complete that movement.
Most of my workouts involved starting on a bike for a brief warmup, then various body weight or resistance band-based movements, followed by stretches at the end of the workout.
Before you start a workout, you're given the option to stream different music categories from within the Future app. By the end of my time testing the app, support for Apple Music and Spotify had been added, allowing you to use your own playlists.
When I first started using Future, the service was only available on the iPhone for Apple Watch users. Since then though, the service has added support for select Google WearOS Watches (Google Pixel Watch, Samsung Galaxy Watch 4, Samsung Galaxy Watch 5, and Montblanc Summit 3.).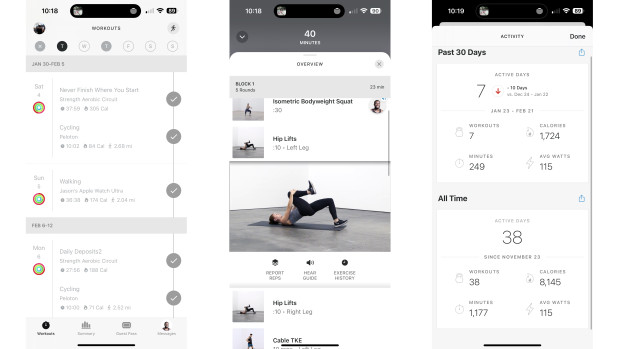 Using the app on the Apple Watch, you can view your exercises, and if there's a repetition component, you can quickly tap a button on your watch to move on to the next step.
When using an iPhone to start your workout, you can AirPlay the workout to a nearby compatible device, essentially giving you the ability to cast it from your phone to a TV or other larger-screened device. That's primarily how I viewed my workouts, using my watch for any extra controls.
A couple of months into testing Future, the Android version of the service was released but it's not a complete carbon copy. Having used the iPhone and Apple Watch counterparts, I was disappointed that I couldn't cast the workout to another device for a large-screen experience, and the WearOS app was very basic. You could see your heart rate and nothing else. You couldn't use any controls to advance to the next moment when you finished your reps; it was as basic as it could be.
At the end of each workout, you're given a summary of your heart rate and calories burned along with a prompt asking you to tell your coach what you thought about the workout.
Your coach has full access to the workout information recorded on your smartwatch, even if it's a workout done outside of the app. For example, I'd gotten into the habit of doing a yoga workout or going on an outdoor walk on my "off days" in order to just keep moving. After each recorded activity was finalized, the information was instantly sent in the conversation with my coach, which often resulted in some extra praise.
Overall, I thought the Future app was easy to navigate and use. Even on the rare occasion when I didn't have an Apple TV nearby to AirPlay my workout, following the workout on my iPhone 13 Pro Max was easy enough. It wouldn't be an ideal way to work out if it was my only means of access, but it came in handy on a number of occasions.
It's all a Mental Game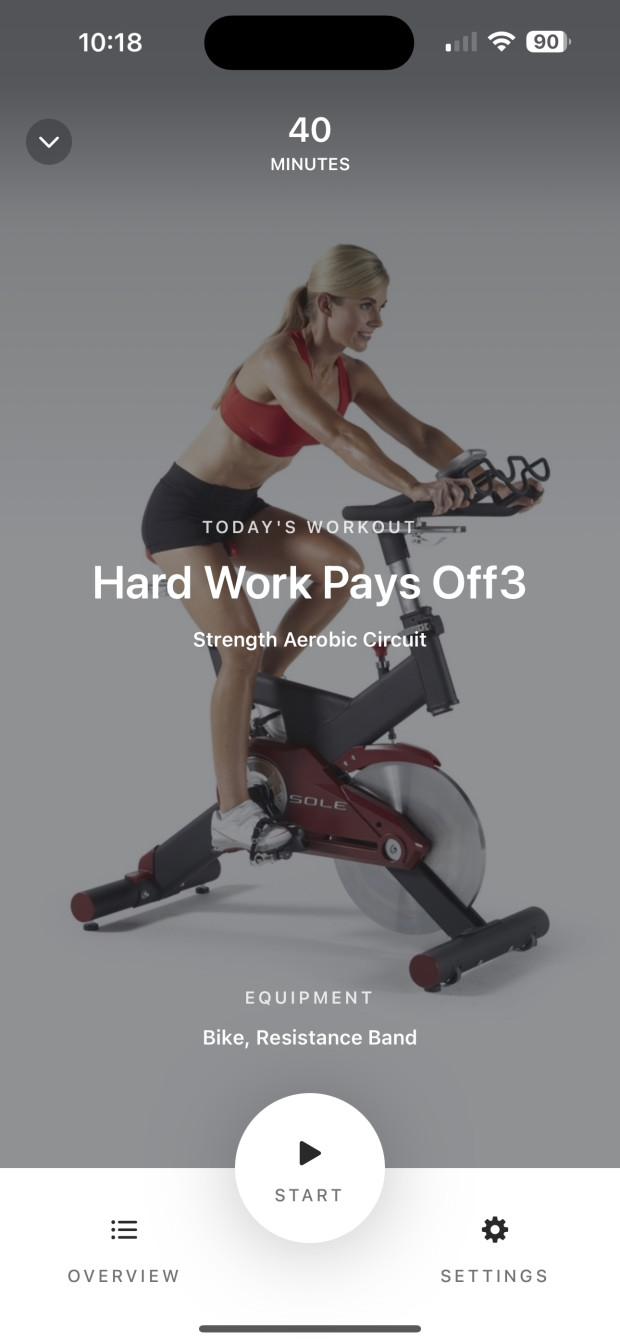 When I started with Future, my goals were to get back to a point where I could and wanted to be active again. The latter part of that is arguably the most important.
Early on, my coach told me that I had to quit being negative about my performance at the end of each workout. I kept telling him, over and over, that I felt like I should be able to do more. When I'd gotten hurt, I definitely was doing more. I was frustrated. I kept telling my coach I needed to figure out how to flip the switch in my brain so that I quit viewing workouts as work, and instead viewed them as an investment in myself.
About a month in, after a random back injury derailed my initial efforts to start exercising again, I slowly started to warm up to the idea of working out more than once or twice a month. Before that, I hated every second of it. My body hurt. My mind told me I was going to do more damage to my knee. I told my coach all of this. In fact, at times I felt as if I was talking to a counselor—or at least could be as honest and open with Glenn as I could a therapist.
I told him the days I hated the workout and why, and I also shared with him my excitement when a workout felt easier than it had the week prior.
There were many days when I'd open the app early in the morning to view what my workout was supposed to be, and try to talk myself into just not doing it. What's the worst that would happen? Glenn would send me a message asking what happened. Cool. I could ignore that. I often told myself.
But over the course of the day, as I continued to debate whether or not I wanted to use 45 minutes of my day working out, I'd start to feel peer pressure. Knowing that my coach would hold me accountable, even if it was virtual, became a huge motivating factor.
I even worked out in my hotel room on more than one work trip, all because I knew I needed to, and I didn't want to have that conversation with my coach.
It wasn't all perfect, though. And none of that is Glenn's fault. My knee continued to (and still does!) give me issues, even as we worked together to keep track of which movements caused pain. At one point, we stopped doing any movements that put pressure on my knee at all. And while that part was (and still is) frustrating, I took comfort in knowing that I was still moving, still getting healthier and doing the best I could.
By the end of my three months with Future, I was once again working out more days each week than not. The switch inside my brain had once again been flipped to enjoy exercise and eating right.
Glenn's patience as we worked through various issues and my travel schedule was critical. And while I was the one doing all of the work, knowing a real person on the other side of my phone was invested in health was a massive motivating factor.
Bottom Line: Is Future Worth it?
It's been about a month since my Future subscription ended. I opted not to continue, mainly because I'm already paying for two different fitness services—Peloton and Apple's Fitness+—and justifying another $150 a month was just too much of a stretch.
I have to admit, though. I miss it. I miss the accountability, the daily interaction with a coach and just the feeling of someone else being invested in my well-being, even if I had to pay for it.
In my experience, Future is a fantastic service that can provide you with the push you need to get in shape and moving. Even if you only use it for a few months as I did. You can go through the questionnaire on Future's site and read through coach recommendations all without having to sign in or provide payment info.
If you're sold, Future costs $149 a month but new subscribers can save $100 on the first month and score it just for $49. You have the ability to cancel at any time, as well.
Prices are accurate and items in stock at time of publishing.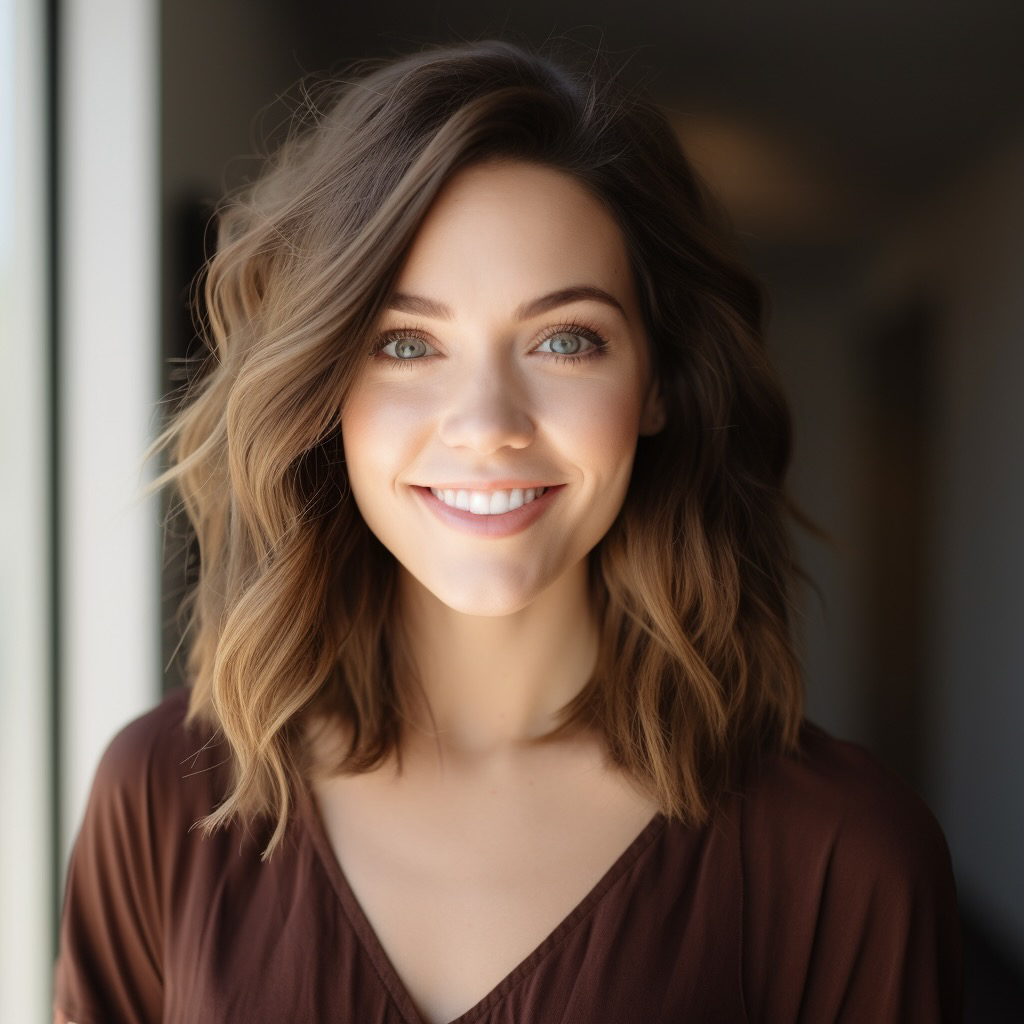 Hi! I'm a dedicated health blogger sharing valuable insights, natural remedies, and the latest scientific breakthroughs to help readers lead healthier lives. With a holistic approach to wellness, I empower individuals with accessible and actionable content, debunking myths and offering practical tips for incorporating healthy habits.