Men's Journal aims to feature only the best products and services. We update when possible, but deals expire and prices can change. If you buy something via one of our links, we may earn a commission. Questions? Reach us at [email protected].
Let's turn back the clock to December 14, 2020: After years of preparation, Apple officially turned on Fitness+. It's a streaming workout service built for Apple Watch users with a slew of deep integrations that delivered an engaging and immersive workout experience. The service launched with 10 workout types, including mainstays like Core, Dance, HIIT, and Strength, that didn't require any prerequisites or equipment in some cases.
Since then, it's grown into a fitness streaming platform with over 4,000 classes and a deep level of integration with Apple tech, like the Apple Watch. It's designed to be approachable for people at any level.
That's not a short order, and it was a big deal for Apple to enter the virtual fitness space. Since then, the company has been on a journey — at least that's how Jay Blahnik, Apple's VP of Fitness Technologies, describes it.
Today, Fitness+ has expanded its offerings beyond just those compatible with an Apple Watch. The platform has also launched new workout types, put on countless Artist Spotlight Series, and introduced audio forms. Still, at its core, what's most impressive is that blending of gadgets, technology, and service that mimics the best in-person experiences in a format you can take anywhere.
To unpack the progress of the service thus far and see how the classes are baked, I got to visit Fitness+ HQ in Santa Monica, California. There, I got a tour behind the scenes, met with many of the trainers, and had the chance to speak with Jay Blahnik. But let's start by taking a closer look at the evolution of Fitness+ and what it delivers now.
Inclusive in All Aspects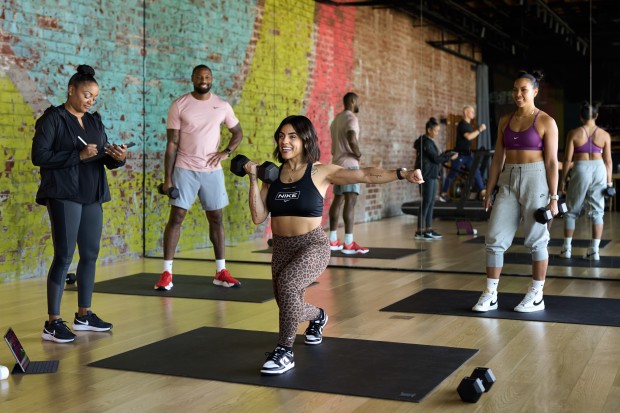 An essential starting point and a core pillar for Fitness+, as well as a key trait that I picked up on from my visit, was the idea of inclusivity. Blahnik noted that the "Northstar from the very beginning was to make this the most welcoming and inclusive fitness and wellbeing service on the planet."
That ethos comes across with various workout types, which range from five to 45 minutes and have modifications displayed by the various trainers on-screen, and with all the work that goes on behind the scenes at the studio. Of course, you can take Fitness+ classes from anywhere on a range of devices: iPhone, iPad, and Apple TV. As long as you sign up with an iPhone, you can access the platform from any of those devices and you're pretty much off to the races. There is a good chance you get three months of the service for free already with your Apple devices or it's just $9.99 a month ($79.99 a year) for the main subscriber and can be shared with up to five family members.
What's resonated with customers of Fitness+ (and what Apple hopes is perceived) is that, regardless of where you are in a fitness journey (just getting started or a triathlete), you can jump right into any class on the service. The way to filter classes is unique in that there are no levels—beginner, intermediate, and advanced are the norms in the industry—which creates an equalizing effect across the various options.
To narrow down from the catalogue, you'll select one of 12 work workout types, then can break that subset down by length, music type, necessary equipment, or even where on your body the movements are focused.
Related: We Spoke With Apple to Unpack The New HomePod
This also makes class discovery a bit more seamless and exciting: As you poke around, you wind up finding a trainer that interests you or discovering that a particular genre of music really gets you moving. Similarly, you won't need to worry about if you have the right equipment since you have a lot to choose from that don't require any.
Once you dive into a given class, you'll immediately notice a primary instructor and a few more Fitness+ trainers on the screen. Having multiple instructors is a vital part of the experience that sets this service apart and fits with the theme of inclusivity, as trainers can collaborate and show modifications for a given workout.
Trainer Bakari Williams noted that "When you see the yoga instructor that you love, or the cycling coach that you love modifying in HIIT or in strength, I think it creates this sort of connection and camaraderie, whether you can put your finger on it, or whether you just feel it."
More critically, though, it ties back to inclusivity in that even if a Fitness+ Trainer is an expert in one area, they're human. It could be a strength expert attempting a yoga workout and making that modification or someone who is not a runner opting to walk on the treadmill for 30 minute cardio workout. This shows you in real-time that if you're not able to do some moves or exercises, you have other options and can still feel comfortable attempting the activity alongside a fitness professional.
It "sends a really powerful message that we want this to be for everyone and modifying is okay. You know, depending on the day, depending on the movement, it is still supposed to be your workout, we just get the benefit of doing it as a team," Williams expanded.
Fitness+ made its debut during the pandemic, but it kept those initial subscribers engaged and brought new ones, demonstrating the staying power of the inclusive, accessible approach.
Seeing trainers from across categories in a given workout also helps enforce a sense of community and can help users discover other teachers on the platform and workouts they might not have experimented with before. That sense of collaboration isn't just on-screen with the trainers but also behind the scenes.
A State-of-the-Art Space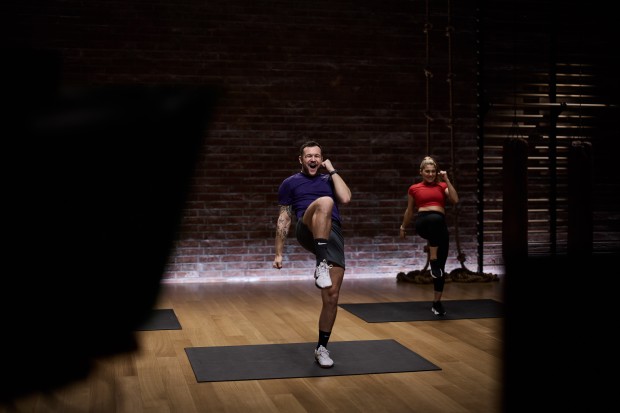 Given that Apple creates some remarkable retail locations and office spaces around the world, notably with the spaceship-like Apple Park in Cupertino, CA, it's no surprise that the Fitness+ HQ is state of the art.
Even though I anticipated this, I was immediately surprised by what I saw on my tour. Rather than separate spaces all themed with brick walls—a key backdrop in any Fitness+ workout—the studio itself is one massive room with all the equipment and the various workout areas. It is truly a live studio environment with a super dense lighting grid up above, a sprung wood floor, and 15 cameras, 13 of them being robotic.
It's incredibly impressive, and it goes the extra Apple mile by streamlining filming: Rather than using tape to mark where trainers should stand in the shots, the stage is set the same way each time and the lighting patterns are automated to capture the trainers in all the right places.
This way, if they go from filming a strength workout with trainer Gregg—actually what I witnessed being taped—they can easily switch to a cycling workout with Sherica within about 15 minutes. While the workouts themselves aren't live streamed, it is a live production.
Related: This Is Not a Glitch, You Can Stream Swiftie Workouts on Apple Fitness+ From Morning to Midnight(s)
On the floor, you have a director, producers, and even camera operators for the few that aren't robotic. They can interpret the shots from the control room and ensure that shooting goes smoothly. Before the workout gets underway, the main instructor will record a preview. This gives a feel for the workout and has been a trademark of Fitness+—rather than just cutting together moments from the workout itself, it's a personal greeting from the instructor including some American Sign Language and an overview of what to expect.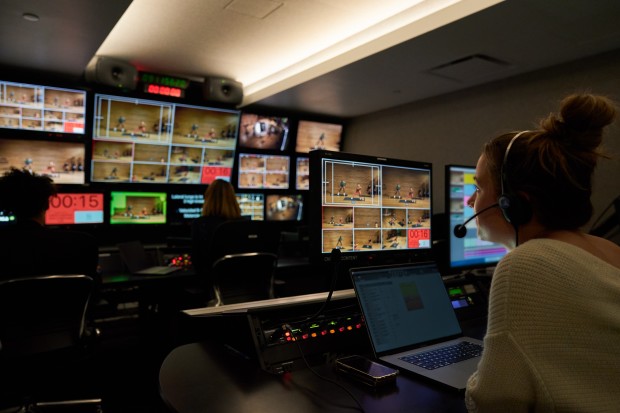 The team actually records it twice, and then they get underway with filming the workout. Meanwhile in the control room, you have various operators of gear who are there to ensure it's recorded, the right directions and callouts are made, and that the right marks are recorded.
This goes for everything from calling your heart rate in a class, which results in a live metric graphic, to the Fitness+ Trainer reminding you to check on your Move ring. All of these need to be accurate with the audio and visuals in complete sync. In certain cardio workouts there is even a "Burn Bar"—a graphic that uses your metrics to show where you are with others who have taken the class or that 15 seconds of burpees are arriving, it needs to be accurate.
A person actually marks those aspects on the video and then Apple has specific software that reads it and adds in the right implementation. It's kind of wild but for the amount of classes being recorded and then dropped on Monday, it tracks. It's an Apple level of expertise.
Similarly, the Fitness+ crew is watching various camera views and even has an overlay to show where your metrics appear in the top left corner and the activity rings in the top right. They want to ensure that the graphics won't block instructors or interfere with the workouts.
In the same vein, you'll notice that regardless of instructor but for workout type the shots will always be the same. Be it a nice portrait effect on the main instructor performing a yoga move or a smooth pan in while a trainer is on a treadmill. It's all designed to be familiar.
All of these workouts arrive in 4K Ultra HD quality which looks dynamite on an iPhone 14 Pro with a buttery smoother Retina display, a big screen attached to an Apple TV 4K, or even an iPad propped up in a hotel room. Fitness+ also has a library of over 4,000 workouts and meditations to pick from and even if you take one again, thanks to the hefty technology integration it will feel fresh.
Intersection of Technology and Exercise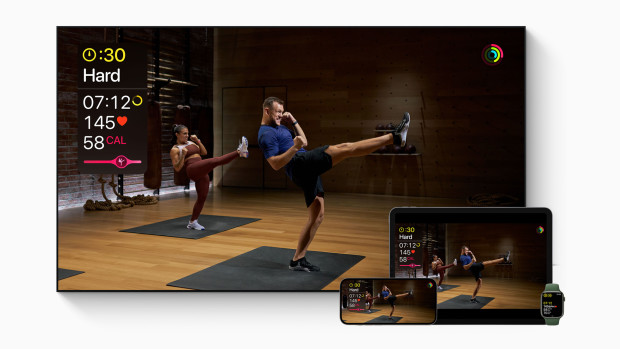 While Apple makes hardware, software, and services, technology isn't necessarily front and center with Fitness+. It's the human element of taking a class, getting to know trainers, and feeling like you are welcome shines through. And part of what makes the Fitness+ proposition unique is the deep integration with Apple devices.
Your workout profile is in tandem with iCloud and lets your Fitness+ experience stay the same, or rather up to date, be it when you're on an iPhone, an iPad, or even an Apple TV. Heck, you can even pull up audio workouts like Time to Run, Time to Walk, or Meditations on your wrist. AirPods Pro pair pretty seamlessly for taking in those outdoor workouts and boast a sweat resistance as well.
Before Apple added the ability to use Fitness+ with just an iPhone in 2022, Blahnik shared that the original inspiration for Fitness+ came from the Apple Watch and one of the key use cases for the wearable. It shipped with heart rate and activity tracking but also introduced the idea of Activity Rings and the Workout app. Similarly, it was accessible and inclusive: "You may not be super sporty using the Workout app, but you're really excited about closing your activity rings all day, or you may be training for a marathon using the Workout app. And what we find is that people are able to use metrics in a way that motivates them on the Apple Watch," Blahnik explained.
It's the core original use cases of the Apple Watch and how people used it to track workouts but pairs it with instruction and full service. Blahnik said that Fitness+ and the Apple Watch were an obvious pairing; they "needed to do it in a way that reflected the way people were using the Watch now," he continued.
Related: Apple Fitness+ Just Released Beyoncé Classes, Kickboxing Workouts, Sleep Meditations and More!
This is evident in the implementation—when you're in a cycling workout with Sherica or Emily, in a meditation with Jessica or Christian, or even in a HIIT workout with Bakari, seeing the activity rings in the corner and that you've almost filled your "Move" ring can put you across the edge. Seeing the celebration graphic can be inspiring and exciting when you close that particular ring. These little touches were from the Apple Watch and enhanced for the big screen by integrating tangible real-time data in a way that you can easily digest.
The Burn Bar, which we discussed above from a control room aspect, "came from that notion that there are a whole bunch of people when they're doing cardio type workouts that they like to know how they're doing," Blahnik explained. He doesn't want to be behind the pack, and I can relate to that. Timers similarly appear on your wrist and the screen, providing extra encouragement.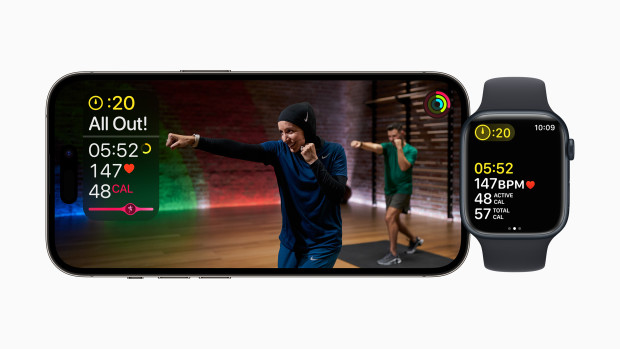 It truly aids immersion and can almost provide more personalization for a given workout that you can't necessarily get from other services, or at least to this degree. In terms of lessons from the technology integration, Blahnik noted:
"I think the single greatest thing that we've learned is that by having a view of yourself on the screen, as well as metrics that react to what the trainers say. It's incredibly immersive. And you can do a workout from Gregg a second time or find new content that you've never used before and feel like it's right in the moment because you're right up there on the screen."
It's undoubtedly one of the magic tricks with the service, and even with just an iPhone, you still get the core Move ring which enhances the experience. Apple needed to ensure the rollout was at the same standard level, and the iPhone implementation here delivers that.
The technology giant recognizes that only some people will get an Apple Watch. While it enhances the experience with an extra push and more real-time data, the iPhone experience is still compelling.
Alongside the integration of hardware, music has and is at the forefront with Fitness+. All of the music featured in classes are available as playlists in Apple Music and Trainers take a lot of care with creating the track for a given workout. They even collaborate with each other, and experts behind the scenes, to sync up with other workouts and ensure representation, as well as songs that can push the power.
Trainer Sherica Holmon shared, "music is like the heartbeat to every one of our workouts and we make sure that we create playlists that drive energy from beginning to end." You can really find every genre from country to rock to hip-hop, classics, and EDM. When she was working on a UK Hip-Hop ride, she leaned on UK trainers to ensure it was wide ranging. Furthermore, it's a form of expression for the trainers, for a ride for Asian Pacific American Heritage Month she "made a full playlist that highlighted Filipino artists or all artists that were part Filipino, like me, and it really meant a lot to me to not only share my culture, but to highlight those artists in the work that they're doing because representation matters."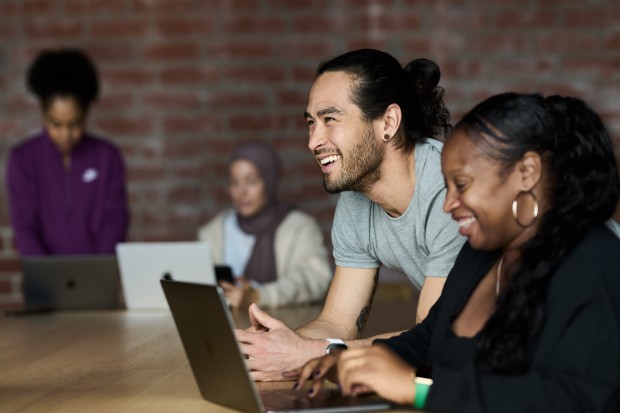 While fitness is generally competitive and instructors generally try to build their own niche, clients, and a brand for themselves, the collaboration is encouraged from the start at Fitness+. It feels like a family of trainers all housed together to create a service that works for everyone. The main studio is where you'll see trainers together in various workouts, but there is also a rehearsal room where trainers work together to practice moves, perform run throughs, and build out the overall run of the show.
Trainer Dice Iida-Klein noted that "Fitness+ is super unique because it is a team effort," something that I encountered first hand. He noted that collaborating with all the trainers brings different perspectives to the table and truly helps to design various modifications or even the addition of moves and specific tracks to add in. Iida-Klein summed up that the collaboration on the screen is "really developed behind the scenes" from working together to create the workout, the music choices, and the modifications to make it welcoming for all potential users.
Of course, the types of workouts have vastly expanded since 2020. Fitness+ originally launched with 10 workout types—Core, Cycling, Dance, HIIT, Strength, Treadmill for running or walking, Rowing, Yoga, and Mindful Cooldowns—and while all of those are available there are now 12 plus a full meditation offering. Pilates was rolled out and Kickboxing joined the party in January of 2023.
Blahnik shared that Kickboxing was added in part "because it was one of the workout types that was most requested by our users and we knew that a lot of people were also doing kickboxing workouts with their Apple Watch." Still though, the implementation for what can be a tough, rough competitive activity, is open to all with two new Trainers being added.
Related: Apple Fitness+ Launches Celebrity-Driven 'Time to Walk' Feature
Looking towards the horizon with future workouts or additions, Blahnik noted they start with this question first: "Can we [Apple] do it in a way that can bring more people in, not just to the service, but into that activity? And we spend a lot of time thinking about how to do that really elegantly and that's always on our radar."
It's an Apple approach and aids in both carefully expanding the platform while keeping the level of classes very high. Of course, there is also the curation element—there are a few editorial folks on the Fitness+ team who help to shape the recommendations you see and even build out collections.
Specifically for the programs like Workouts for Older Adults and Stay Active During Pregnancy, Apple also leans on the health team. They can triple check experts to ensure the recommendations are proper and even mimic areas that can be beneficial. For instance, with Workouts for Older Adults in the dance workouts focus in on coordination and cardio fitness improvements with various moves. Other collections group workouts together for a goal like getting healthier, running a 10K, or even branching out into a new type of activity.
Expect More Evolution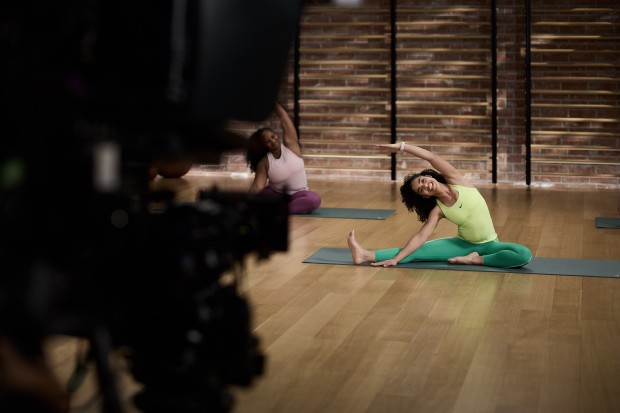 If one thing is clear after my visit, it's that Apple is blending inclusivity, technology, and fitness into a high-quality and high-performing fitness offering. Fitness+ is still super affordable at just $9.99 a month or $79.99 a year for up to five family members, and with the removal of the Apple Watch being a requirement, we saw it evolve into an even larger offering for more folks.
The Fitness+ team is clearly in a rhythm with Jay at the head and a team of trainers that aren't just experts in the field, but also bring a dose of humanity and openness to each and every workout. I expect that to stay the same as content still gets dropped weekly, with new trainers and even new collections, maybe even workout types on the horizon.
Fitness+, like most of Apple, is going to stay in the constant form of evolution on this journey of creating the most welcoming fitness platform. As for what we can expect in the future, Jay was expectedly coy:
"Everything we look at going forward is about how do we make sure that people have great success in their fitness journey, whether Apple Fitness+ is a complement to something they already love to do outside of our service, or whether Apple Fitness+ is the only thing they do to get moving and meditate. What can we do to make the experience even easier, smoother, something they can fit into their life more regularly."
It's a hefty set of goals, but it's clear they're working towards something even bigger.
Prices are accurate and items in stock at time of publishing.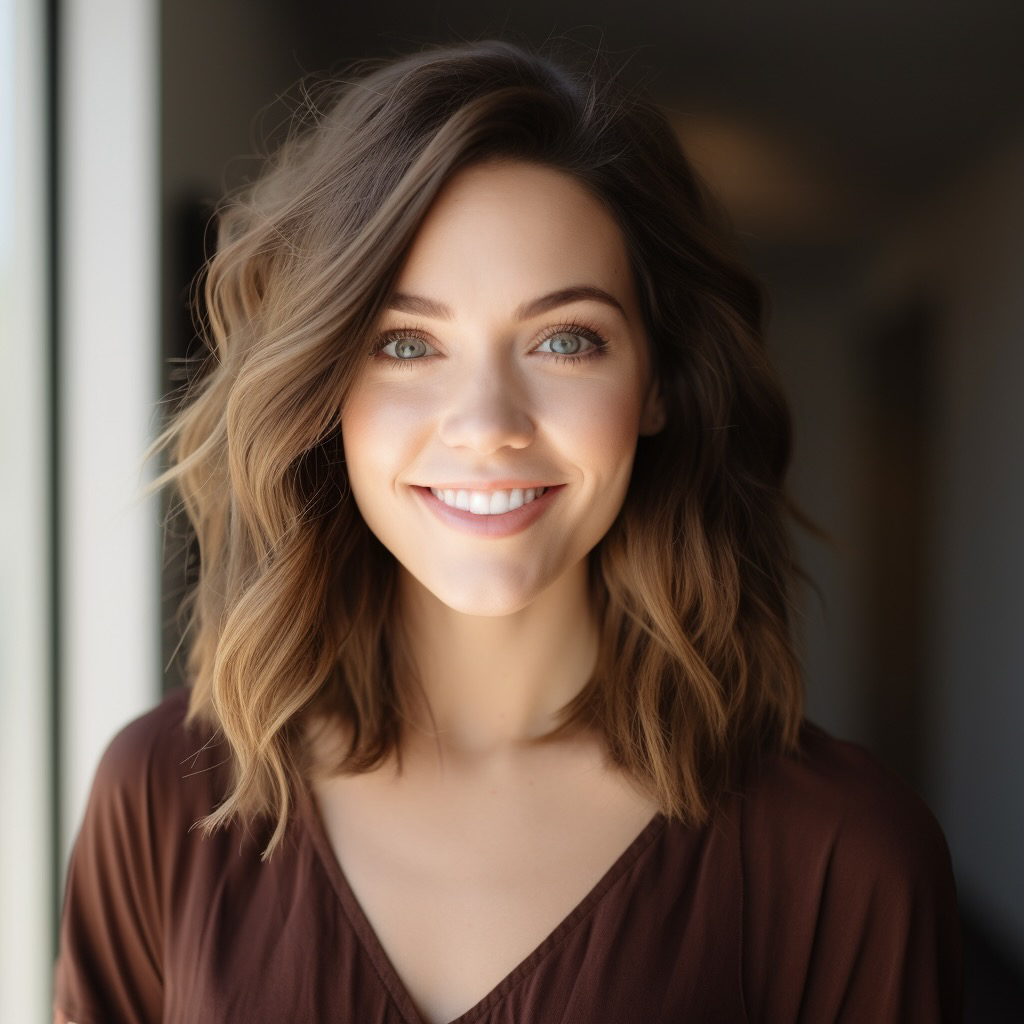 Hi! I'm a dedicated health blogger sharing valuable insights, natural remedies, and the latest scientific breakthroughs to help readers lead healthier lives. With a holistic approach to wellness, I empower individuals with accessible and actionable content, debunking myths and offering practical tips for incorporating healthy habits.