By far, football is the most-watched sport in the United States. On average in 2022, nearly 20 million viewers tuned in to NBC's Sunday Night Football, per Statista.
And, according to the NFL, approximately 200 million people—that's 60 percent of the U.S.—watched Super Bowl LVII between the Chiefs and the Eagles. So it's not surprising that America's favorite sport has also become a beloved source of entertainment. After all, everyone needs something to watch after the season is over. Luckily, IMDb lists more than 150 football movies produced since 1921, so there are plenty of options.
Related: The Greatest Quarterback Rivalries of All Time
With myriad movies to choose from—everyone likes Rudy and Remember the Titans, right?—we picked our favorites and decided to count down to the No.1 pick. Make some popcorn, grab a seat, and enjoy some pigskin glory!
15 Best Football Movies of All Time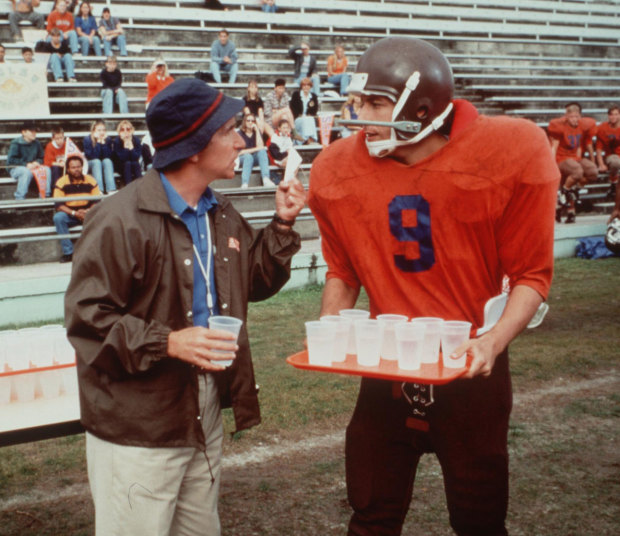 Adam Sandler has taken the pantheon of many great comedians before him after being honored with the Mark Twain prize, but years before that he took on one of his most iconic roles that led him there: Bobby Boucher. Starting out as an overzealous waterboy, Boucher gets noticed after he's taunted and responds by tackling the quarterback of the new team he's working for. Showing raw speed and power, Henry Winkler's Coach Klein sees Boucher as a way to turn around his South-Central Louisiana State University Mud Dogs and get revenge on his rival, Red Beaulieu (Jerry Reed). Bobby has to battle against his mother's wishes (Kathy Bates) and still handle his waterboy duties, but he eventually helps the Mud Dogs snap their 40-game losing streak and becomes a star in the process. The movie has gotten so popular over the years that Adidas even made real jerseys for the Mud Dogs.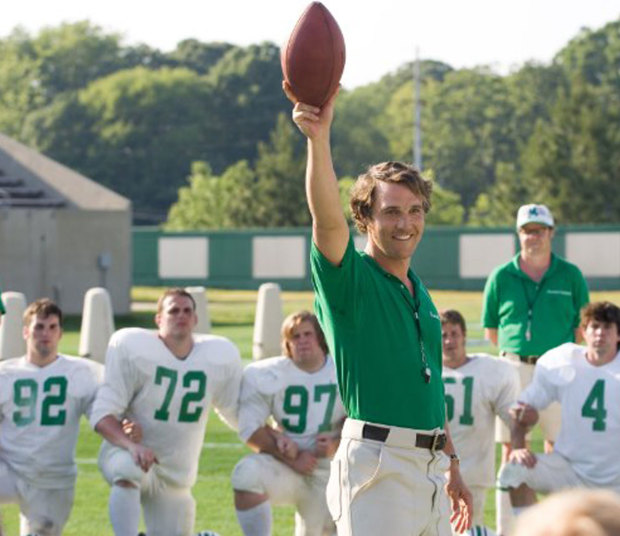 We Are Marshall depicts the inspiring true story that followed one of the worst tragedies in sports: How the Marshall University football team persevered after a plane crash in 1970 killed all 37 players along with coaches, trainers, and staff. While the school initially thinks about suspending the football program, the student body and locals push to keep it going. Jack Lengyel (Matthew McConaughey) is brought in as head coach and works to build the program back, along with Nate Ruffin (Anthony Mackie), a player who wasn't on the flight, and a group of inexperienced freshmen and sophomore players. The team eventually pulls out its first win following the crash and helps to unite the school and city.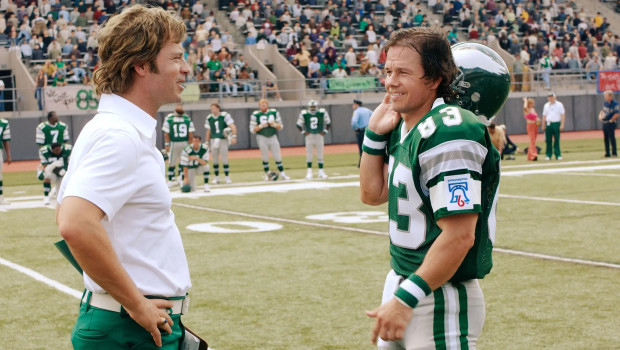 If you ever thought your backyard football skills were good enough to land you on a pro team, this is the movie for you. Mark Wahlberg stars as Vince Papale, who, after getting laid off from his job in Philadelphia, gives a shot at open tryouts for the Eagles. After impressing coach Dick Vermeil (Greg Kinnear), Papale gets the chance to come to training camp and earn a roster spot. Despite dealing with a tough reception from his fellow players and skepticism from coaches, Papale earns the final spot and makes the team. While he struggles at first, Papale helps the team beat the Giants and plays for the Eagles for three seasons. Wahlberg gives a great performance. While some of the details are moved around for dramatic effect, the movie tells a fun story of perseverance and going after your dreams.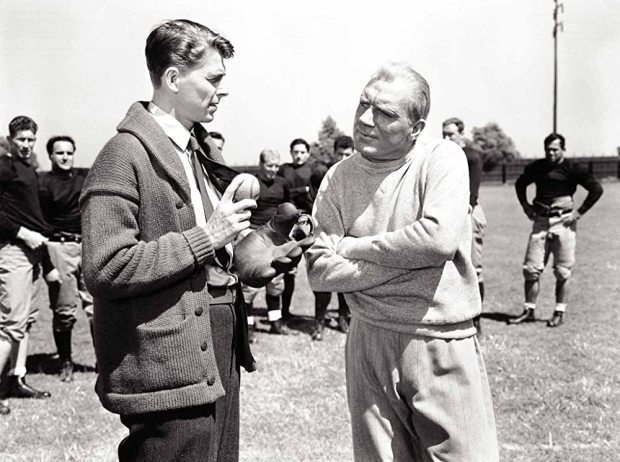 This biopic is an all-time classic football film. Fittingly, it tells the story of one of the most iconic people in the history of the sport, Knute Rockne. The film follows his life as he becomes a star football player at Notre Dame, helping lead the team to an incredible upset over Army, one of the top football teams in the nation at the time. Rockne eventually becomes the head coach of the Fighting Irish, winning three national titles and over 100 games. This movie is also remembered for Ronald Reagan. The future president played running back George Gipp, who, after being injured, tells Rockne the now-iconic line to "win one for the Gipper."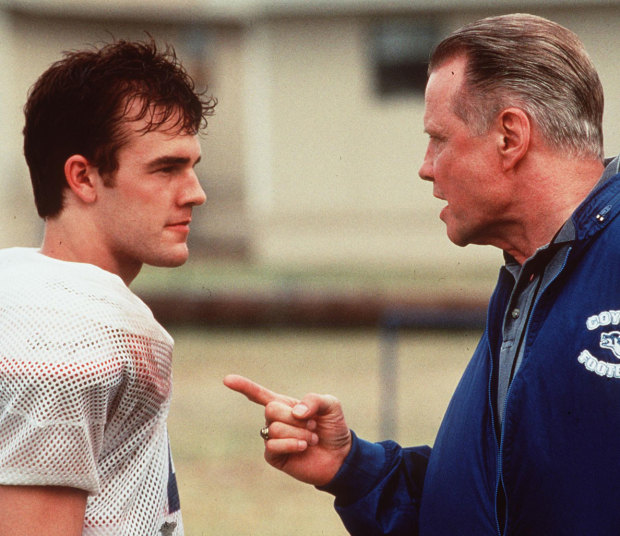 Football is a way of life in West Canaan, TX, for better or worse, and Varsity Blues gives you both sides of that line. Centered around the high school football team, the drama gives a raw and oftentimes hilarious look at what it takes to make it. Jon Voight stars as the hard-charging, win-at-all-costs Coach Kilmer, who stops at nothing to make sure his team wins—even if it means getting his players injured. When that happens to star quarterback Lance Harbor (Paul Walker), his backup and best friend, Jonathan Moxon (James Van Der Beek), takes over the team, causing tension between the two. Thing is, all Mox really wants to do is leave town and go to a good college, with his eyes set on Brown. The movie has a number of now-iconic lines. Just Google "I don't want your life!" if you need a refresher.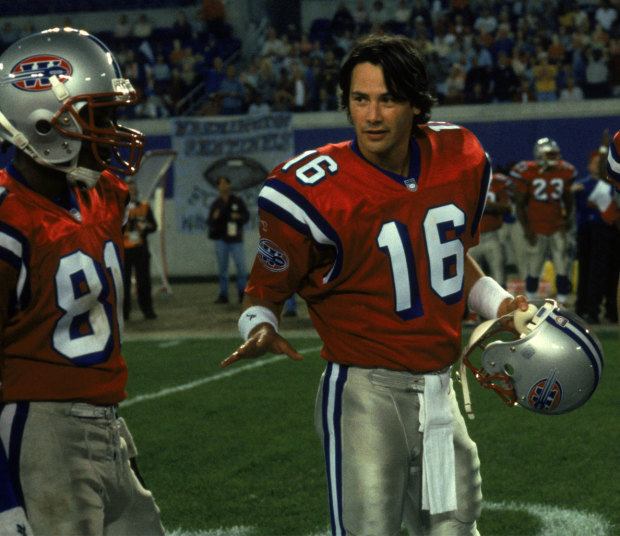 Before he became the world's best assassin in John Wick, Keanu Reeves was just a washed-up quarterback looking for another chance. After a player strike toward the end of the football season, the Washington Sentinels try to find a group of replacement players who can take them to the playoffs. Led by new coach Jimmy McGinty (Gene Hackman), the team puts together a ragtag crew for the final games, including quarterback Shane Falco (Reeves), who's best remembered for blowing a bowl game while he was at Ohio State. He trades in cleaning boats to pick up a football, and leads the group of misfits—which includes Jon Favreau, Orlando Jones, and Rhys Ifans—all the way to the playoffs. It's a feel-good football movie you can always watch.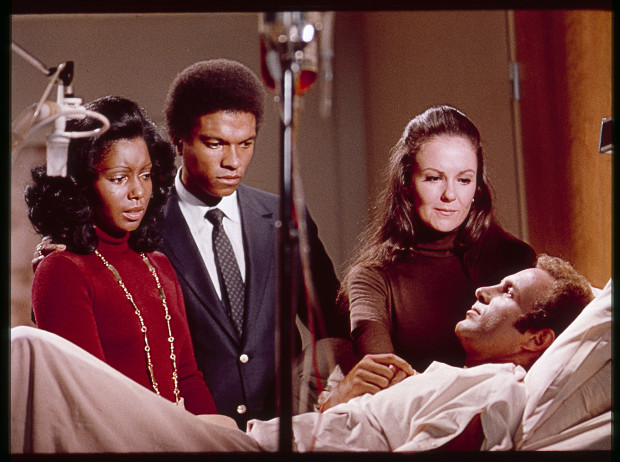 Football movies can make you laugh, but there's one that can always make you cry: Brian's Song. The story follows the friendship between Brian Piccolo (James Caan) and teammate Gale Sayers (Billy Dee Williams). The players start off together as rookies and roommates. When Piccolo starts to show signs of weakness, it's revealed he has terminal cancer. Sayers wants to win the next game for his teammate, but the Bears fall. When they visit Piccolo, he comically references the classic line from Knute Rockne, All-American, saying the line isn't "Let's blow one for the Gipper." Fun fact: Jack Warden, who stars as Bears coach George Halas, also stars in The Replacements as the Sentinels foul-mouthed team owner.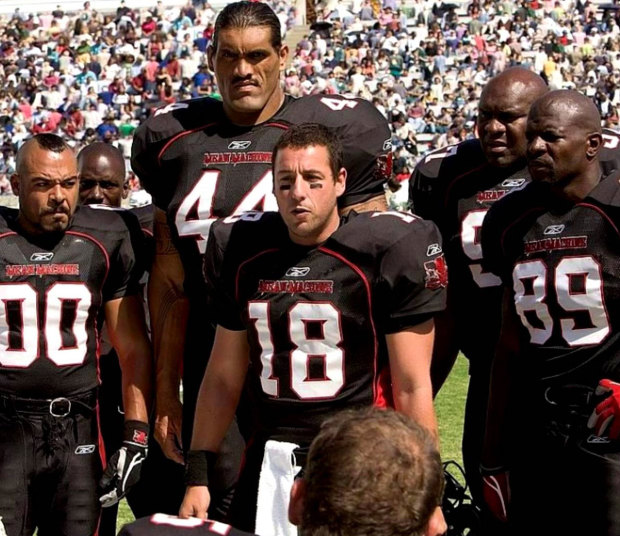 Adam Sandler put his football skills to good use again for this remake of the classic 1974 film. Just like the original, former pro quarterback Paul Crewe (Sandler) is locked up in jail and is tasked with putting together a team of inmates to take on a team of prison guards. Sandler brings together a fun supporting cast that includes Chris Rock, Nelly, Terry Crews, wrestler Bill Goldberg and, of course, original star Burt Reynolds as the coach of the team. Before you watch the recent version, it's worth doing your homework and watching the original, which has Reynolds in one of his most iconic and charismatic roles.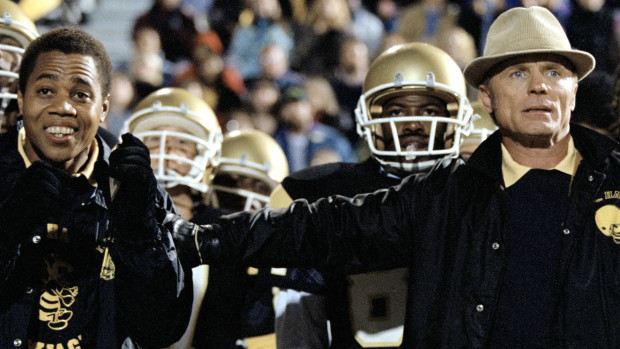 This heartwarming movie is based on the true story of James Robert "Radio" Kennedy, who became a longtime assistant to the T.L. Hanna High School football team in South Carolina. Cuba Gooding Jr. plays the titular Radio, who gets his nickname from Coach Harold Jones (Ed Harris) after he comes by football practice one day. Radio is mentally disabled and spends most of his day wandering around the small town collecting things, but when he meets Coach Jones, he starts to help the football team and high school. Jones becomes a mentor to Radio and helps unite the town around the team. Radio ended up being a presence on the sidelines for decades with the team before passing away in 2019.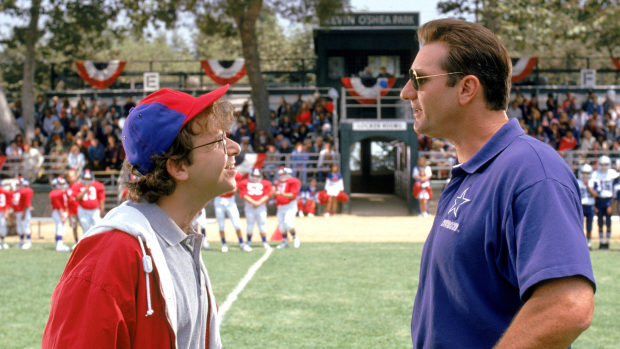 As far as kids' football movies go, this is one of the best. In a small town in Ohio, Pee-Wee football takes on major importance for two brothers. The Heisman trophy-winning, big-man-on-campus, Kevin O'Shea (Ed O'Neill), coaches the Cowboys, the top team in town. The other brother, Danny (Rick Moranis), has always been second best to his brother—especially after his daughter Becky (Shawna Waldron), who's probably the best player out of all the boys in town, doesn't make the Cowboys squad. So what does Danny do? He starts his own team and proposes a bet to his brother: If he pulls the upset, he gets to take over Kevin's Chevrolet dealership in town. He puts together a team of ragtag misfits along with Becky—going by the nickname "Icebox"— to play the Cowboys. While they need a lot of work, they get some advice from real-life NFL personalities and players like John Madden, Emmitt Smith, Bruce Smith, Tim Brown, and Steve Emtman, giving them confidence going into the game. They manage to outsmart and outplay the Cowboys, winning with a little help from a play called the "Annexation of Puerto Rico."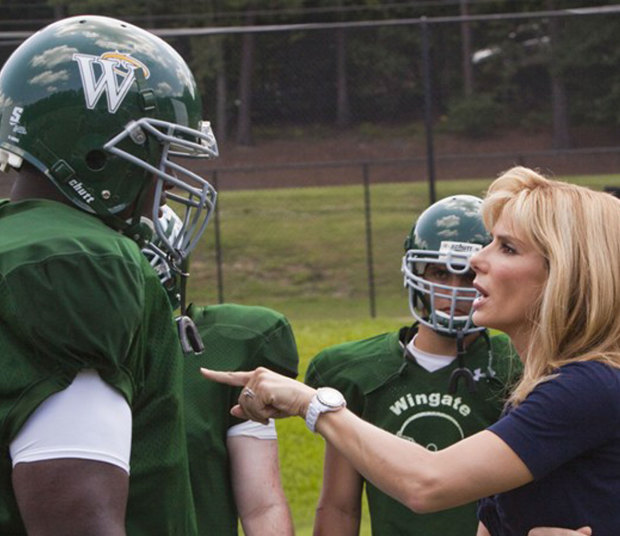 Based on the true story and book by Michael Lewis, the movie follows the story of Michael Oher as he navigates the troubles of high school and a rocky upbringing. He gets help from a friend's father to enroll in Wingate Christian School. Michael is in foster care and as he gets moved around, he can't seem to find his footing until one day at school he meets Sean Tuohy Jr. and things start to turn around. He ends up staying with the Tuohy family and stars as left tackle for the team. He's recruited by some big-name colleges and works his way to being a better student so he can get a scholarship. Sandra Bullock won her Best Actress Oscar for this role as the powerful matriarch of the family who will stop at nothing to make sure Michael gets a fair shake at school and in life. Following his success in high school, Michael would go on to play in the NFL, including being drafted by the Baltimore Ravens in 2009.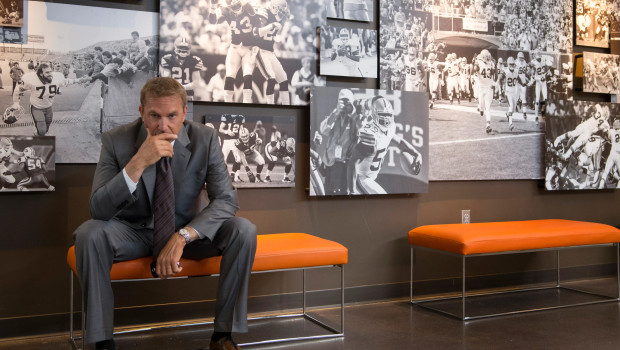 This flick is basically one big advertisement for the NFL, but it's also a really fun movie. It's based on the 2014 NFL Draft and what the Cleveland Browns are going to do to improve their team after they trade for the top pick in the NFL Draft. Everyone thinks GM Sonny Weaver (Kevin Costner) should take star college quarterback Bo Callahan (Josh Pence). Sonny is keeping an eye on linebacker Vontae Mack (the late Chadwick Boseman) and eventually makes him the top overall pick. Costner leads an all-star cast that has some comic gold, including Denis Leary as the Browns' coach, Jennifer Garner as the Browns' salary cap manager, Tom Welling as the team's starting QB, and Sam Elliot as the coach of the Wisconsin Badgers.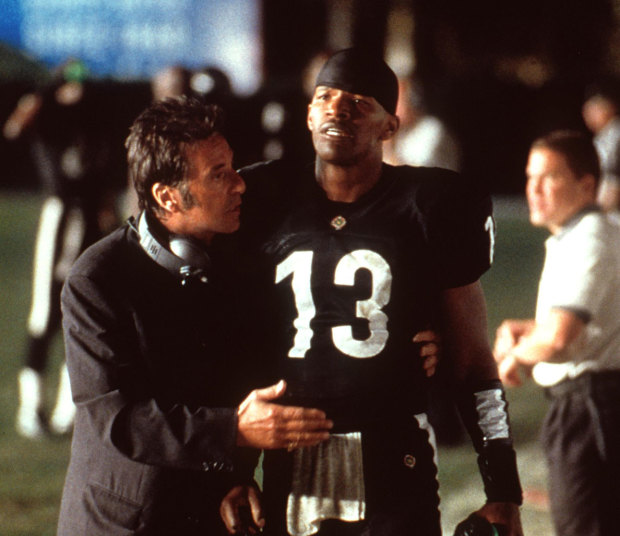 If you're looking for a raw, gritty, realistic look at professional football, Oliver Stone's film is right up your alley. The film takes on a litany of serious issues, including painkillers, steroids, violence, drugs, crime, and greed. Based on the subject matter, the NFL didn't allow any league names or logos to be used, so Stone put together his own fictional league to put his lens on professional football, following the Miami Sharks of the Affiliated Football Franchises of America (AFFA). The movie has a truly insane ensemble cast, including Al Pacino as head coach Tony D'Amato; Cameron Diaz as team owner; Dennis Quaid as Miami's veteran quarterback; and Jamie Foxx as Willie Beamen; the exciting young quarterback who takes his place. That group stars alongside James Woods, LL Cool J, Lauren Holly, Matthew Modine, John C. McGinley, Charlton Heston, and Bill Bellamy with Stone's directing bringing you right on the field for some hard-hitting action.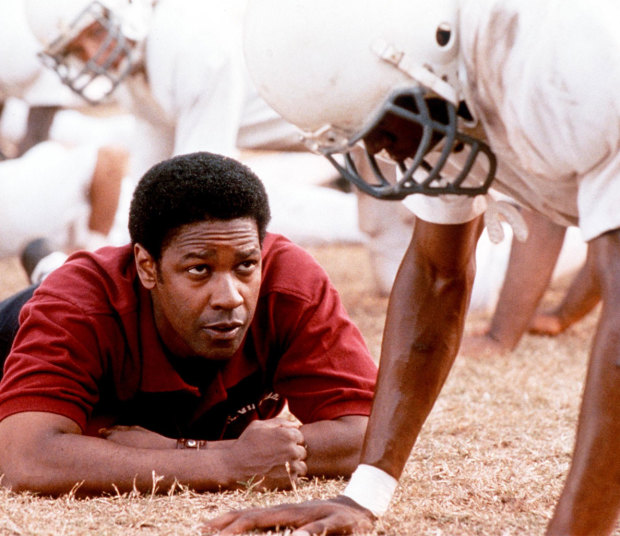 This true story has become one of the most iconic football movies of all time, in no small part due to the great performance from Denzel Washington. The Oscar winner plays coach Herman Boone, who's brought in to integrate T. C. Williams High School in Virginia in 1971. Tensions flare from people in town and the players, who are put together in an intense training camp at Gettysburg College before the season starts. Players are split down racial lines, but as time goes on, the group comes together. Following an emotional speech from Coach Boone, the players become united on and off the field. The team goes undefeated in the regular season and eventually wins the state championship. Washington led a cast of great young actors, including Wood Harris, Ryan Gosling, Donald Faison, Ethan Suplee, Kip Padue, and Kate Bosworth.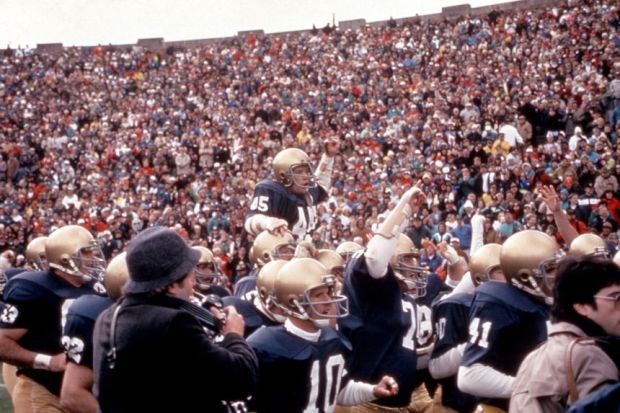 Speaking of inspiring football movies, it's hard to beat the true story of Daniel "Rudy" Ruettiger. Played by Sean Astin, Rudy is an undersized, scrappy high school student who dreams of playing football for Notre Dame. But without the money or the athletic skills to get in, he stays and works at a steel mill in his hometown. Following the tragic death of his friend at work, Rudy decides to honor his friend by trying to get into Notre Dame, enrolling in a nearby college to get his grades up to get in and transfer, while also working grounds keeping at the Notre Dame stadium. As time goes by, Rudy works hard, gets his grades up and makes it into Notre Dame, eventually trying out as a walk-on for the team. He makes the practice squad and despite his shortcomings, proves his determination to the team and is promised he will get the chance to suit up for one game. But when a new coach comes in, Rudy is not given that chance, and in one of the most iconic scenes in sports movie history, the entire team goes to the coach and each offers to give up their jersey to allow Rusy to dress for the game. Eventually, the coach relents, Rudy gets into the final game of the season and is carried off the field by his teammates. The great cast alongside Astin includes a young Jon Favreau and Vince Vaughn, along with Ned Beatty, Charles S. Dutton, Lili Taylor, and a cameo from Rudy Ruettiger himself.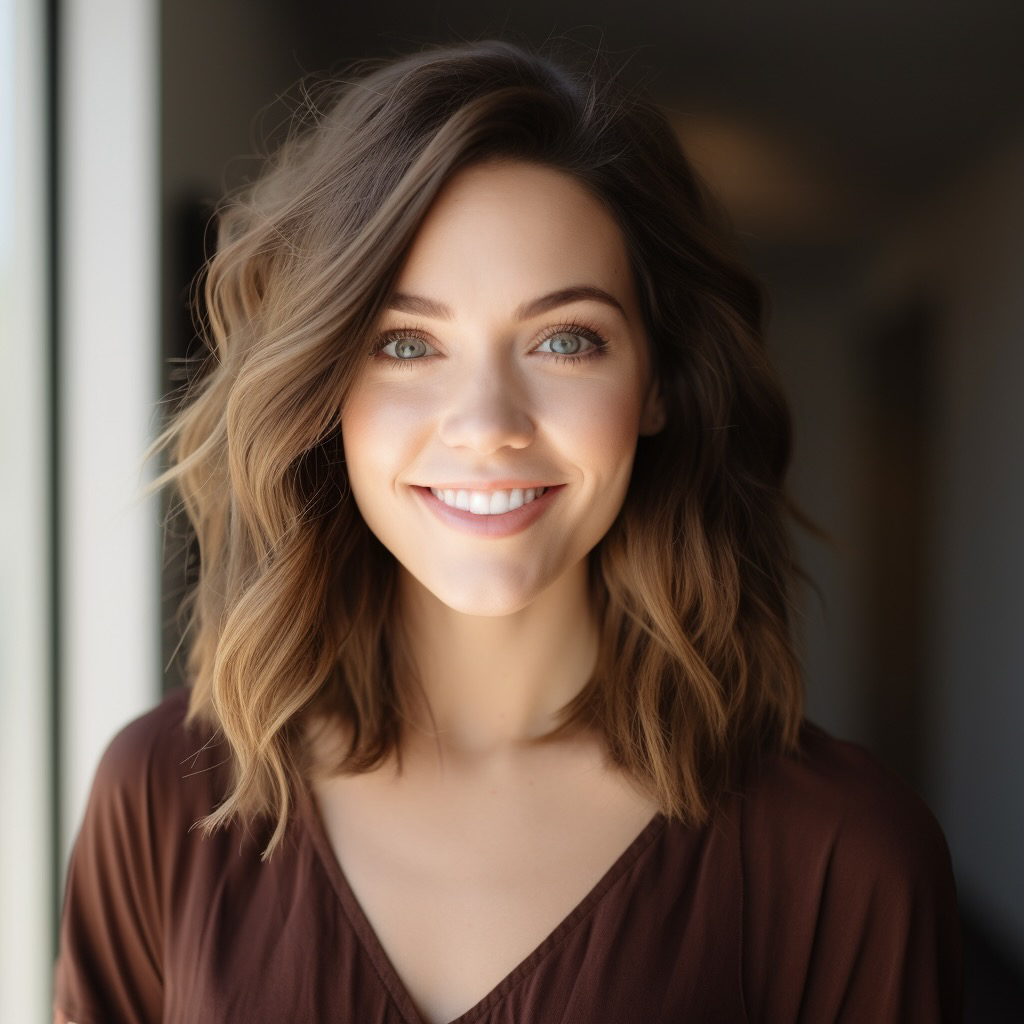 Hi! I'm a dedicated health blogger sharing valuable insights, natural remedies, and the latest scientific breakthroughs to help readers lead healthier lives. With a holistic approach to wellness, I empower individuals with accessible and actionable content, debunking myths and offering practical tips for incorporating healthy habits.