Hi friends! I hope you're having a wonderful day!
I've got a new podcast episode up this morning, and am chatting with Sara Frenza about changing body composition.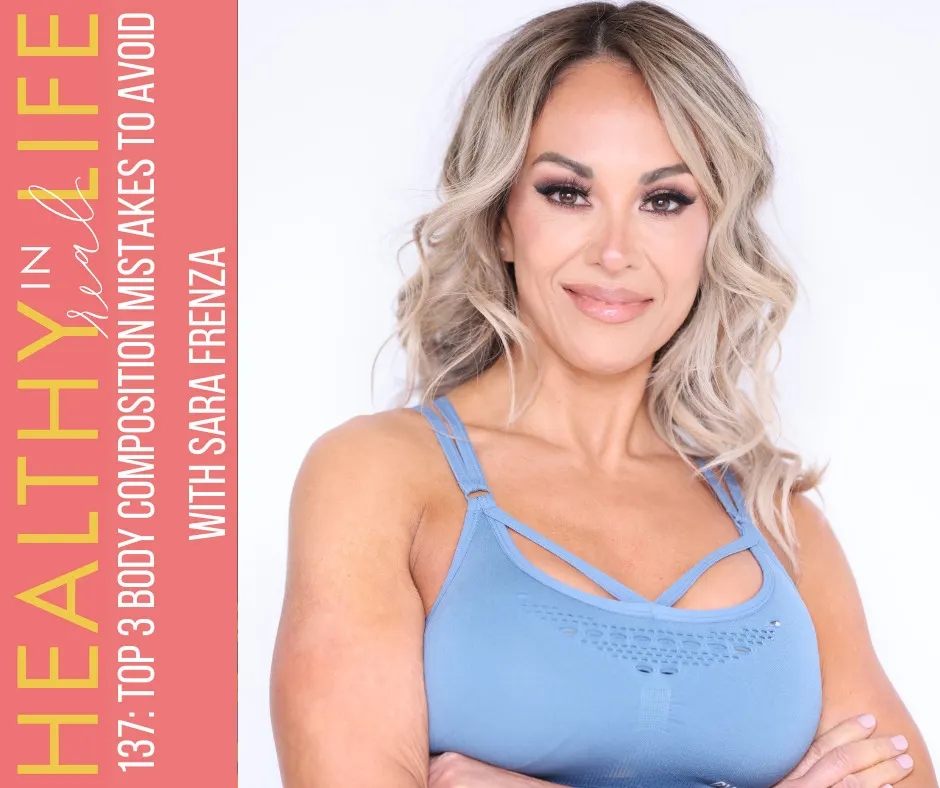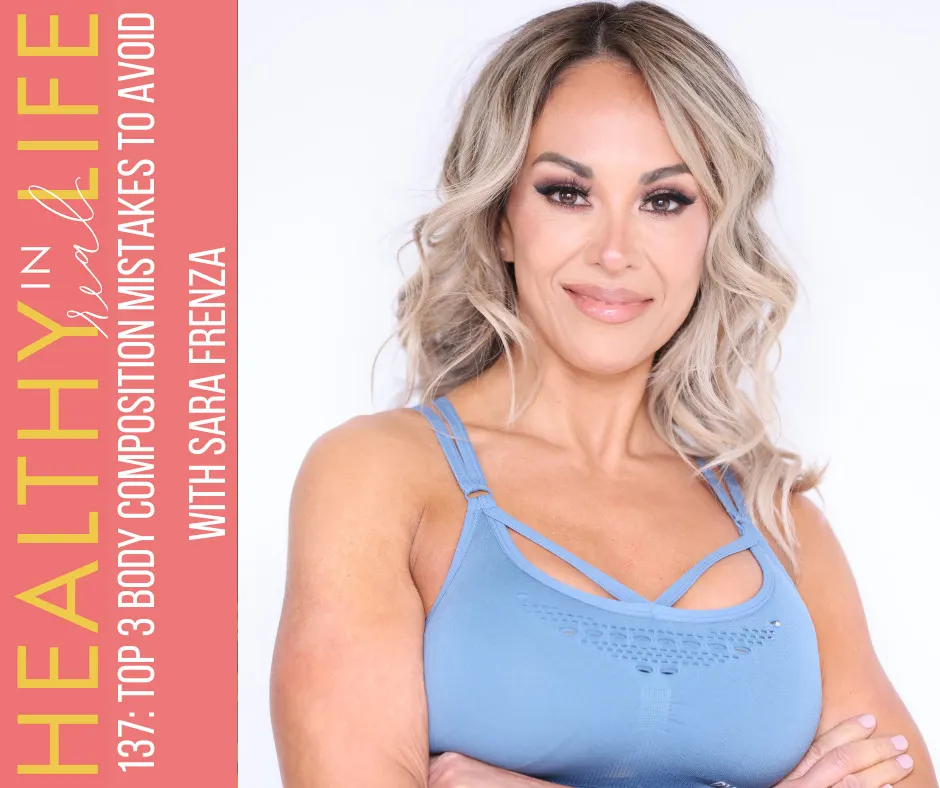 137: Top 3 body composition mistakes to avoid with Sara Frenza
Here are some of the things we talk about in this episode:
– Top mistakes we see when it comes to changing body composition
– What body composition means
– Different factors that affect metabolic health
– How to eat more protein
and so.much.more!
Here's a bit more about Sara and her background:
Sara Frenza is a published fitness model and writer, nutrition and body transformation coach, and the owner of Sara Frenza Fitness and Nutrition. After overcoming her own struggles with chronic dieting and post-pregnancy weight gain, Sara discovered a sustainable approach to losing over 50 lbs. and transforming her body composition. Now, she helps women achieve their dream bodies through her 1:1 coaching program, focusing on the exclusive Restore, Lean out, and Sustain body transformation protocol. With a passion for empowering women, Sara has been published in top fitness magazines and graced the covers twice. Her journey from avoiding mirrors to becoming a fitness model in her 40s serves as an inspiration to women worldwide.
You can connect with Sara on Instagram and on her website. Download a copy of her free recipe ebook here.
More resources from this episode:
Check out this podcast episode about progressive overload training and how it works.
If any of my fellow health professional friends are looking for another way to help their clients, I highly recommend IHP. You can also use this information to heal yourself and then go one to heal others, which I think is a beautiful mission. You can absolutely join if you don't currently work in the health or fitness industry; many IHPs don't begin on this path. They're friends who are passionate to learn more about health and wellness, and want to share this information with those they love. You can do this as a passion, or start an entirely new career.
You can use my referral link here and the code FITNESSISTA for up to $250 off the Integrative Health Practitioner program. I highly recommend it! You can check out my review IHP Level 1 here! I just finished IHP2 and will share a review of my experience, too.
I'm still obsessed with my sauna blanket. This is one of my favorite ways to relax and sweat it out. I find that it energizes me, helps with aches and pains, I sleep better on the days I use this, and it makes my skin glow. Link to check it out here. You can also use my discount (FITNESSISTA15) for the PEMF Go Mat, which I use every day, and the red light face mask, which is a staple in my weekly skincare routine.
Get 15% off Organifi with the code FITNESSISTA. I drink the green juice, red juice, gold, and Harmony! (Each day I might have something different, or have two different things. Everything I've tried is amazing.)
Thank you so much for listening and for all of your support with the podcast! Please be sure to subscribe, and leave a rating or review if you enjoyed this episode. If you leave a rating, head to this page and you'll get a little "thank you" gift from me to you.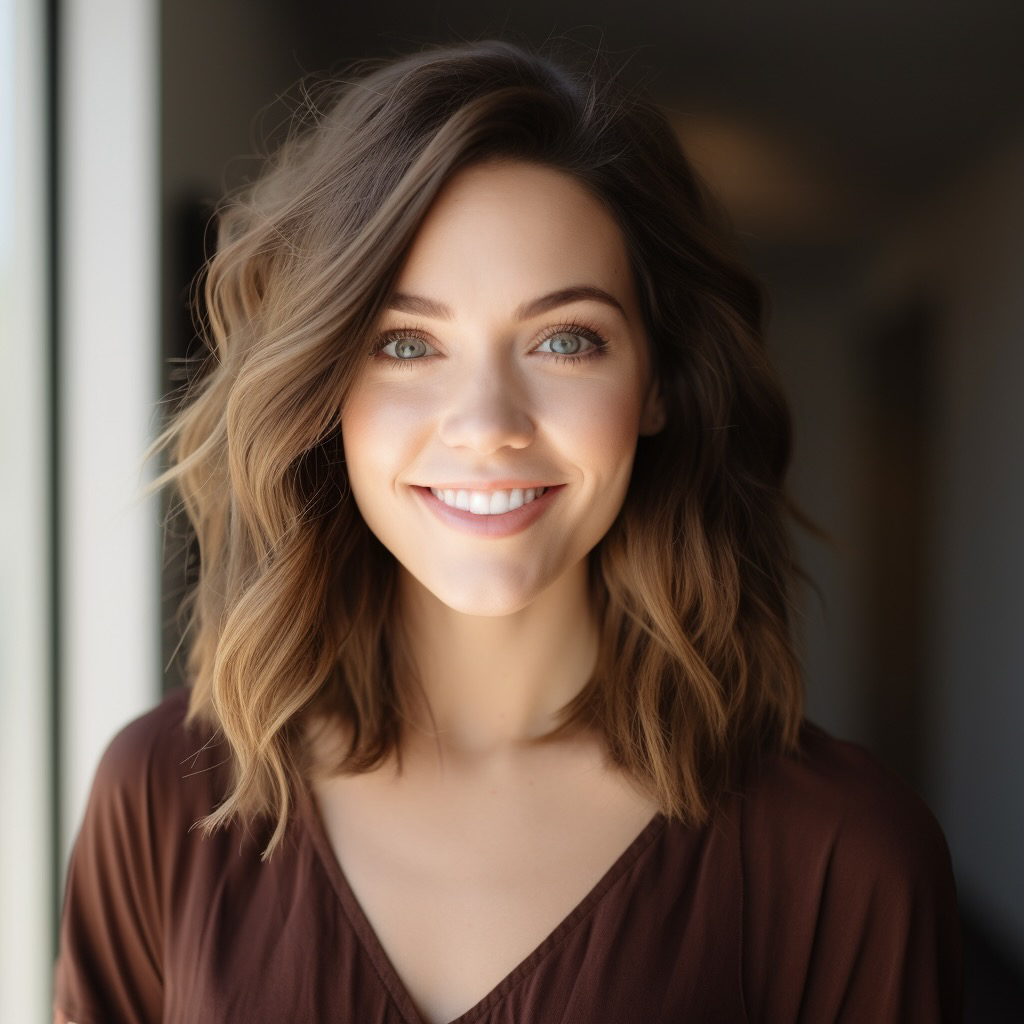 Hi! I'm a dedicated health blogger sharing valuable insights, natural remedies, and the latest scientific breakthroughs to help readers lead healthier lives. With a holistic approach to wellness, I empower individuals with accessible and actionable content, debunking myths and offering practical tips for incorporating healthy habits.